CDAO GOVERNMENT
2023 SPONSORS
Premier Sponsor

Carahsoft
Carahsoft Technology Corp. is The Trusted Public Sector IT Solutions Provider
™
, supporting Federal, State and Local Government agencies and Education and Healthcare markets. As the Master Government Aggregator
®
for our vendor partners, we deliver solutions for Cybersecurity, MultiCloud, DevSecOps, Big Data, Artificial Intelligence, Open Source, Customer Experience and more. Working with resellers, systems integrators and consultants, our sales and marketing teams provide industry leading IT products, services and training through hundreds of contracts.
Visit website
Platinum Sponsors

CLOUDERA
Accelerating Agency Missions with Data in Motion.
Government agencies are faced with a multitude of challenges, including aging legacy systems, fraud and abuse, and crippling cyberattacks. More than ever, they need a proven platform that can securely manage their data. Cloudera's technology solutions address these challenges by
simplifying data acquisition and delivery, while providing public sector leaders with the insights they need to serve their constituents.
Cloudera partners with federal, state and local, and education institutions to support data security and governance mandates, modernize data architectures across any platform and cloud, and meet the zero-trust mandate related to data flow. With customers across 40 global governments, Cloudera can accelerate data movement and digital transformation to accomplish your mission.
Visit website

hp
Z by HP is the trusted hardware partner for the world's leading artists, creators and top companies around the world. Z offers high performance laptop and desktop workstations, packed with professional NVIDIA graphics cards that are highly tuned to deliver stable performance with professional software. Z engineers work closely with NVIDIA and the independent software vendors (ISVs) to test and certify the software, helping ensure Z PCs deliver peak performance for key professional applications. And, with over 360,000 hours of testing on every component, down to the screws, Z PCs are built to drive the most demanding workflows—24/7.
Visit website
Gold Sponsors

Alation
Alation is the leader in enterprise data intelligence solutions, enabling data search and discovery, data governance, data stewardship, analytics, and digital transformation. More than 450 enterprises in myriad industries build data culture and improve data-driven decision-making with Alation, including local, state, and federal government agencies such as the State of Tennessee, the Ohio Department of Job and Family Services, and the Centers for Medicare and Medicaid Services (CMS). Learn more about how Alation helps Public Sector agencies transform data systems to facilitate mission delivery, fortify data integrity, and elevate service standards at
Visit website

Tyler Technologies
Tyler Technologies provides integrated software and technology services to the public sector. Tyler's data platform solution, Data & Insights, empowers local, state, and federal government entities to connect and transform siloed data into actionable insights. As the market leader in making government data discoverable, usable, and actionable, Tyler Data & Insights solution empowers public servants to create safer, smarter, and more vibrant communities that operate efficiently and connect transparently with internal and public stakeholders. Tyler has more than 40,000 successful installations across nearly 13,000 locations, with clients in all 50 states, Canada, the Caribbean, Australia, and other international locations.
Visit website

Progress | MarkLogic
The MarkLogic data platform by Progress gives Global 2000 and public sector organizations a faster, trusted way to unlock value from complex data and achieve data agility. Our unified enterprise-grade platform lets organizations securely connect data and metadata, create and interpret meaning, and consume high-quality contextualized data across the enterprise – enabling informed search, contextual applications, grounded data for analytics, and facts-based intelligence. The MarkLogic platform helps organizations respond nimbly to business change while providing rigorous data governance and transformational data security.
The single platform combines a multi-model database, search, and semantic AI technology to couple data with its metadata and put information in context to its state, use, and audience. Organizations benefit from a single data resource that includes data and everything that is known about what the data means, eliminating the effect of data and knowledge silos and removing friction from any aspect of working with any information at any scale for any purpose. The platform enhances existing investments in data systems, delivering:
• Data Agility – the ability to quickly and easily make changes to any aspect of how information is interpreted and acted on
• Ease of Connection – integrate existing data sources, repositories, applications, and workflows
• Semantic AI – no-code software that uses machine learning and knowledge models to synthesize, enrich, extract, and harmonize all types of metadata
• Trusted data – traceable, transparent, repeatable, and auditable results, understandable by business users
• Enterprise-grade security, scalability, availability, language support, temporality, interfaces, and standards-based architecture for both data and metadata using a single platform
Visit website

Informatica
Informatica (NYSE: INFA), an Enterprise Cloud Data Management leader, brings data to life by empowering businesses to realize the transformative power of their most critical assets. We have created a new category of software, the Informatica Intelligent Data Management Cloud™ (IDMC), powered by AI and an end-to-end data management platform that connects, manages and unifies data across any multi-cloud, hybrid system, democratizing data and enabling enterprises to modernize their business strategies. Customers in over 100 countries and 85 of the Fortune 100 rely on Informatica to drive data-led digital transformation. www.informatica.com. Connect with LinkedIn, Twitter, and Facebook.
Visit website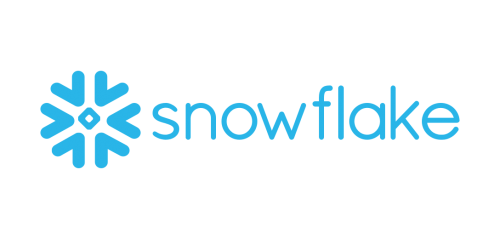 Snowflake
Snowflake's founders started from scratch and built a data platform that would harness the immense power of the cloud. But their vision didn't stop there. They engineered Snowflake to power the Data Cloud, where thousands of organizations have seamless access to explore, share, and unlock the true value of their data.
Visit website
Lunch Sponsor

SAP
As the market leader in enterprise application software, we're helping companies of all sizes and in all industries run better by redefining ERP and creating networks of intelligent enterprises that provide transparency, resiliency, and sustainability across supply chains. Our end-to-end suite of applications and services enables our customers to operate profitably, adapt continuously, and make a difference worldwide.
Visit website
Welcome Sponsor

Immuta
A leader in data security
Immuta enables organizations to unlock value from their cloud data by protecting it and providing secure access.
Visit website
Exhibit Sponsor

AI Squared
Simply put, AI Squared provides the easy way to add AI and ML to your business applications. We do this by solving the last mile of the machine learning lifecycle.
As data scientists ourselves, we know what it's like to be frustrated by the time and resources required to integrate ML into business workflows. In fact, we've often thought about how much easier it would be to drag and drop a model right into your favorite application— so that's the capability we built. With AI2, you can now visualize your model's inferences within any web application instantly, without depending on IT.
Not so simply put: through a combination of pruning, quantization, and NAS, we reduce the resources to run neural networks by up to 90% without reducing performance. We simplify the integration of ML by enabling our optimized model format to run directly within the browser through drag-and-drop model integration, minimal code required.
Visit website

datacamp
Data science and analytics are rapidly shaping every aspect of our lives and our businesses. We're collecting more data than ever before, but not everyone is able to efficiently analyze all that data to extract meaningful insights. There is incredible power in data—but only if you know what to do with it. DataCamp teaches companies and individuals the skills they need to work with data in the real world.
Visit website

saarthee
We are a group of passionate and curious data driven problem solvers who believe in the magic of data. At the heart of Saarthee's philosophy is the belief that data is a powerful catalyst for change. We believe that every data point has a story to tell, and we are here to listen, decode, and translate that story into tangible business value.

Our unconventional mindset pushes us to explore unconventional data sources, uncharted territories, and unconventional solutions that provide our clients with a competitive edge.

We don't just crunch numbers; we dive deep into the data, seeking hidden patterns, uncovering hidden opportunities, and discovering insights that drive impactful decisions. We embrace complexity, relishing the challenge of solving intricate data puzzles: why do customers behave the way they do?. What drives meaningful business growth? How do you turn analysis findings into strategic imperatives?

We are a magical community where people are available for each other not just for work but also for fun and supporting other dimensions of life.

We are Saarthee…we are on a journey to where passion meets data so that we can explore, examine., and explain the mysteries of your business, and bring you insights that simplify your world.
Visit website
This could be you!
Interested in sponsorship opportunities for CDAO Government?
Please contact our Sponsorship Managers,
or schedule a meeting below: